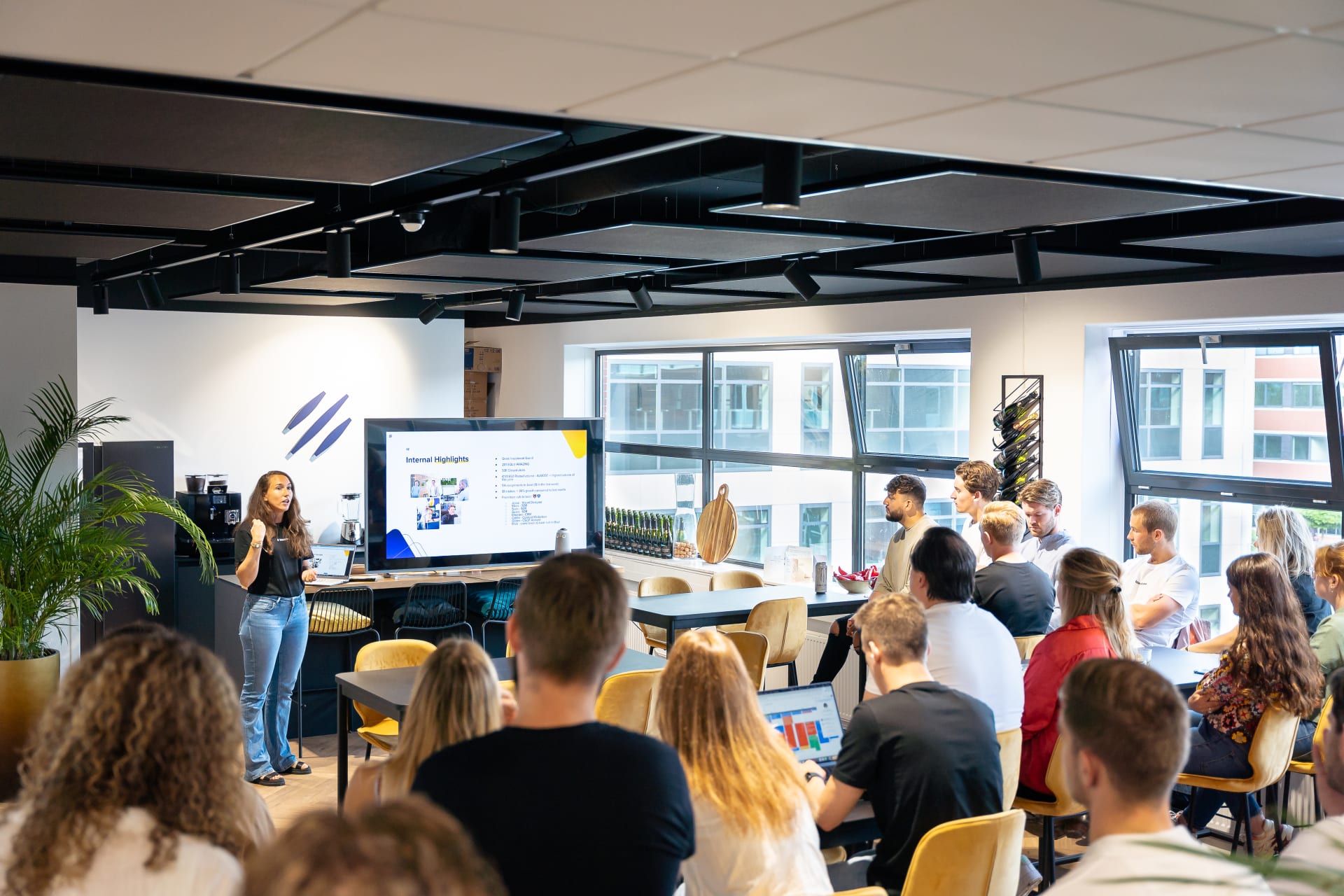 Product Owner Internship
Schiphol-Rijk

,

Noord-Holland

,

Netherlands

Stages/Internships
Your Challenge
We are on the lookout for an enthusiastic and curious Product Owner Intern with a strong sense of technology. Join our fast-growing scaleup company that is redefining the future of connecting skills and work globally! At blackbear, you will impact the way work is outsourced by companies while being part of an ambitious, hardworking pack of bears. Are you ready to pull out your claws as our Product Owner Intern?
About the team
You will be part of the Tech team, the driving force behind everything we do. This young and ambitious team works hard to ensure our platform runs smoothly, always keeping in mind the end-users. They create business value, drive innovation and love technology. This is done with an unprecedented commitment across product, design and engineering disciplines.
What you will learn
As our Product Owner Intern you will have the opportunity to participate in and learn about different aspects of the software development life cycle in an agile product organisation from a product manager's point of view. In this role you are expected to work independently but also collaboratively and driven by group critique in a fast paced environment.
By the end of your internship, you will possess an understanding of what the product manager/owner role encompasses. You will actively contribute to the goals of the Product team and complete hands-on projects directly related to our business.

During this internship you will work closely with the Product team on the below aspects:
Product Design & Development - 60%
Conduct market research, user interviews, surveys

Exploring basic user experience concepts; user feedback, and market research.

Collect requirements and create agile user stories.

Support with documentation & feature release announcements.

Maintain the product HelpCentre up to date.

Attending stand-ups and sprint planning meetings; carrying a project from ideation through execution.
Product Analytics - 30%
Running tests and ROI analyses on various product decisions

Monitor and analyse product performance metrics and provide recommendations for continuous improvement.
Product Strategy - 10%
Work together with the Product team on deciding what to build, who we build for, when we build it and what problems we seek to solve; assisting in the development of product roadmaps & feature prioritisation.
What you will bring
Aside from the blackbear mindset we look for a match in the following skills and knowledge to strengthen our pack:
You are available for a 4 to 6-month internship from August / September 2023 onwards.

You are studying Business Management, Product Management Technology or a related study in applied science or university.

You are familiar with the software development lifecycle.

You have an affinity for collecting, synthesising, and analysing data to form your Excellent communication, presentation, interpersonal and analytical skills.

You have the ability to communicate complex concepts clearly and persuasively across different audiences and varying levels of the organisation.

You are curious, thoughtful and a self-starter.

You are available for at least 4 days per week.

You have English working proficiency, Dutch is a plus.

You are located in The Netherlands.
Nice to have:
Project management experience is a plus - planning, execution, and measurement

Prior experience with Agile is a plus

Experience with Figma/Jira or other similar tools is a plus

Experience with Data Analysis, product metrics, product analytic tools is a plus

What's in it for you?

You will start together with several other interns. We truly value our interns at blackbear, we work with passion towards our goals and you are key in reaching those.
You will receive an internship compensation of 400 EUR based on a full-time internship, paid vacation days, and a work laptop. Our team will guide you and make sure you learn all you can during your internship.
Together with your assigned mentor you can decide on your learning objectives and work on your school-related projects.
At the office, we provide healthy lunches, and we love to party. Our Friday afternoon drinks and bear events are legendary! We believe in having a fun, hardworking and passionate team that celebrates all successes, big or small.
Little bear about us 🐻
A typical bear is open, unique, people-oriented, and passionate. We offer companies the digital solution to output-driven outsourcing. With our product, we enable Solvers to generate an income remotely. We guarantee companies that our Solvers deliver a high-quality result on their projects and motivate this by paying Solvers for delivered output, instead of hours worked.
We have a beautiful, large office where we love meeting each other, but hybrid working is definitely an option within blackbear.
Having such an ambitious and adaptable team of colleagues means that there is always a great internal project to work on or a process to improve. We offer you the opportunity to create a meaningful impact on what blackbear will become over the next few years.
All our bears work with complete passion and dedication towards reaching the same goal: To turn blackbear into the most awesome product in the world. Together we'll make it happen. By working hard and celebrating our successes we will turn blackbear into the go-to solution for hassle-free outsourcing on a global scale - that's the blackbear mindset.
Ready to kickstart your blackbear journey?
Applying is easy, just click on the button below! 👇
Questions? Reach out to Aniek via WhatsApp on 06 23 93 93 35 or send her an email aniek.hartlief@blackbear.global.
Great organisations are built on great people and we want to hire the best people. At blackbear we embrace diversity and encourage everybody to join our team.

Schiphol-Rijk
,
Netherlands
or
Apply with Linkedin
unavailable
Apply with Indeed
unavailable