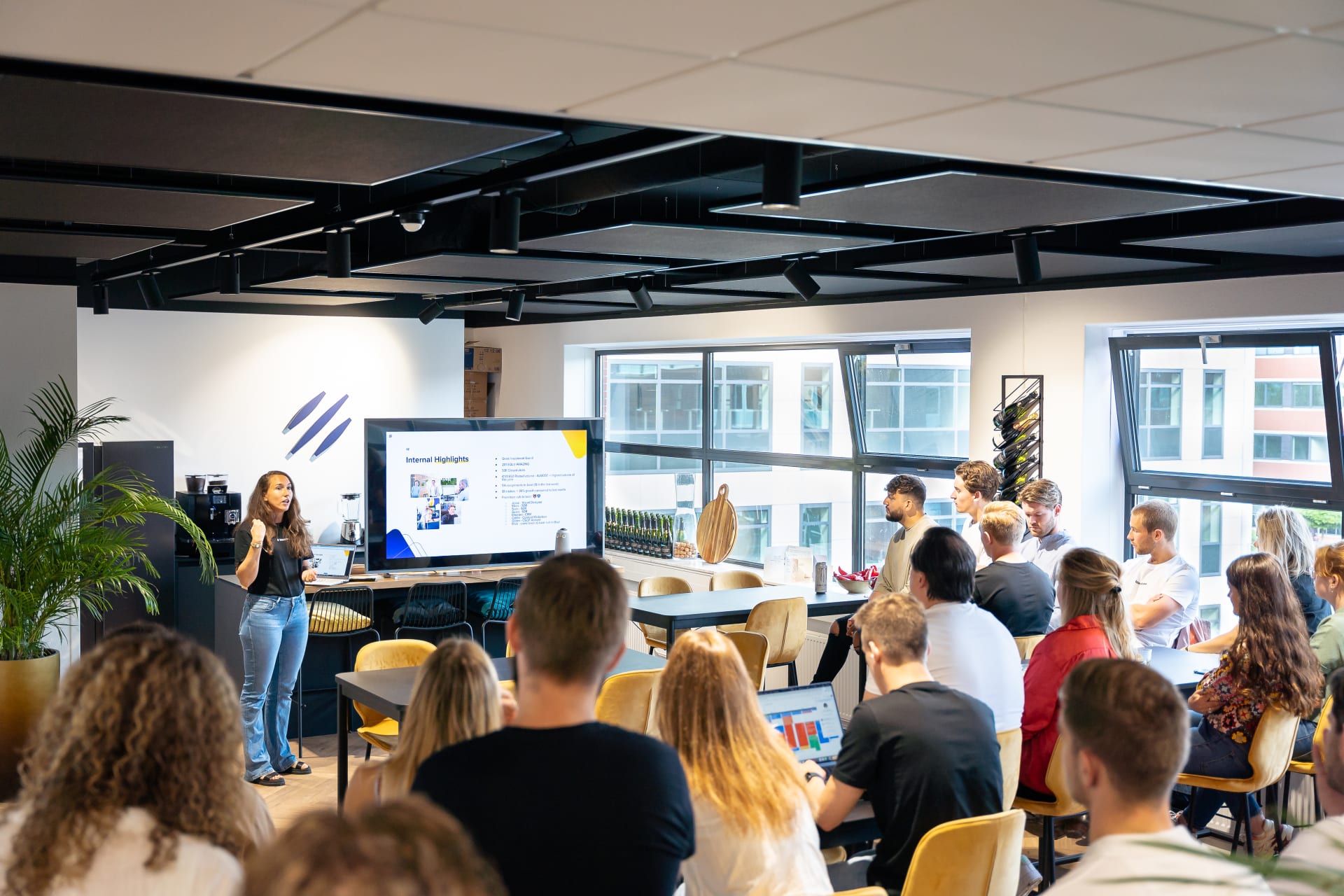 Head of Sales
Schiphol-Rijk

,

Noord-Holland

,

Netherlands

Sales
Your Challenge
Join our fast-growing tech company and help us reshape the way organizations get work done, one project at a time. At blackbear, you will impact the way organisations work together with professionals flexibly and seamlessly while being part of an ambitious and hardworking team of dedicated professionals. We are looking for a people-centric Head of Sales to accelerate our aspirations to redefine the future of flexible work, on a global scale.
About the Team

As the Head of Sales you will become the leader of the Sales team consisting of two disciplines: Account Executives and Sales Development. Both disciplines are crucial drivers for our commercial growth. With the team we thrive together to ensure sustainable growth by getting new customers in. We do this by building valuable relationships and guiding new customers through the processes from introduction to closing and ultimately prepare them for a strong adoption of our product.


What you will do
In your role as Head of Sales you are responsible for lead generation, sales management, and revenue expansion. It's all aimed at client acquisition to rapidly grow our customer base. You will work closely with Customer Success, Marketing, and Product to ensure best-in-class buying experiences while making sure that new customers are supported with effective and efficient people centric processes.
You will report directly to Joep, Co-founder & Co-CEO and will be responsible for building, leading, and mentoring the Sales team. It's not your first rodeo being the leader of Sales and the prospect of being in the midst of the hustle and bustle of the operation with a strong and driven team excites you.
More specifically, you will:
Be part of our Leadership Team.

Manage OKRs such as €-pipeline build, €-new deal revenue, and %-revenue growth.

Grow KPIs such as SALs, SQLs, Opportunities, Order Value, Velocity, and Conversion-%.

Craft client acquisition strategies on leadership level to execute with your teams.

Design and implement client acquisition models together with your teams.

Expand our sales architecture, infrastructure, and automation.

Operationalize how we redesign processes, channels, enablement, and automation.

Enhance our data-framework to grow and enable strong data-driven growth.

Lead and manage the Sales team day-to-day to perform to their best potential.

Work in the trenches with the teams on senior deal making with clients where needed.

Manage and keep track of Sales commercial spend to optimize return on investment.
What you will bring
Aside from bringing the blackbear mindset, we would love to see the following skills and knowledge to strengthen our pack:


Proven Sales experience in SaaS or Marketplace start-up and scaleup; organizations and displayable experience in a Lead or Head of role;

Previous record of implementing Revenue Growth projects;

Affinity with outsourcing, secondment or consultancy;

Data driven, you like your Sales Metrics;

Fluent in Dutch, Professional proficiency in English is a must;

The ability to constantly switch between ops. and projects, while focussing on clear OKRs;

People-centric leadership to manage and expand an growth-focused Sales team;

Entrepreneurial mindset and customer centric.
What's in it for you?
A monthly base-salary, within a range between € 5.000 - €6.000 depending on relevant experience, proven track record, and seniority. This base is to be extended to a complete OTE with a variable salary.


In addition to your compensation, we offer 25 vacation days, travel allowance, pension participation, an annual personal learning budget of €600,-, healthy lunches, and a possible future participation in our ESOP. Above all, you become part of a strong and driven team, that we call the pack.


We work hard to go above and beyond our mission, but we don't forget to celebrate our successes, big and small. Working with blackbear, means working with passion, opportunities and personal growth, while enjoying your time with your fellow bears to the fullest.
Little bear about us 🐻
We believe every person has their own skills and knowledge that in the world of today should always be put to use as good and easy as possible. This is why we strive to become the leading solution for flexible capacity on a global scale, by enabling professionals and organizations to work together flexibly and seamlessly. By having such an adaptable blackbear team we are able to grow sustainable and fast, while having fun along the journey. Making everything possible from our nice spacious office at Schiphol-Rijk in which we combine working from home with on-location working to build and foster our culture.


Ready to kickstart your blackbear journey?
Applying is easy, just click on the button below. 👇
Questions? Reach out to Caroline via email: caroline.cointepas@blackbear.global.

Great organizations are built on great people and we want to hire the best people. Blackbear embraces diversity and encourages everybody to join our team. Acquisition by recruitment agencies is not appreciated. We've got our recruitment covered!

Schiphol-Rijk
,
Netherlands
or
Apply with Linkedin
unavailable
Apply with Indeed
unavailable